TODAY'S SPECIAL
JOIN FREE + OFF!'
LA Life-Excellent Choice!
LA Life Digital
Food Tracker
Community Support
Recipes
2 Bottles LA TakeOff Cleanse
56 Servings of LA Lites
FREE STAINLESS STEEL WATER BOTTLE
FREE FOOD SCALE
FREE SHIPPING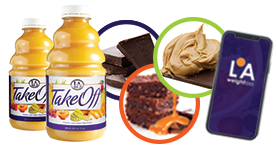 LA Life Essential

$ 170.00

LA Life

$ 19.99

Starter Fee

0.00

Your Total Today

$ 189.99
NO ANNUAL CONTRACT, EASY TO CANCEL. PLEASE NOTE: Plans automatically renew at the end of the month, and you will be charged at the standard monthly fee (currently shown above) until you cancel Tax additional in applicable states.