Baked Chicken Parmesan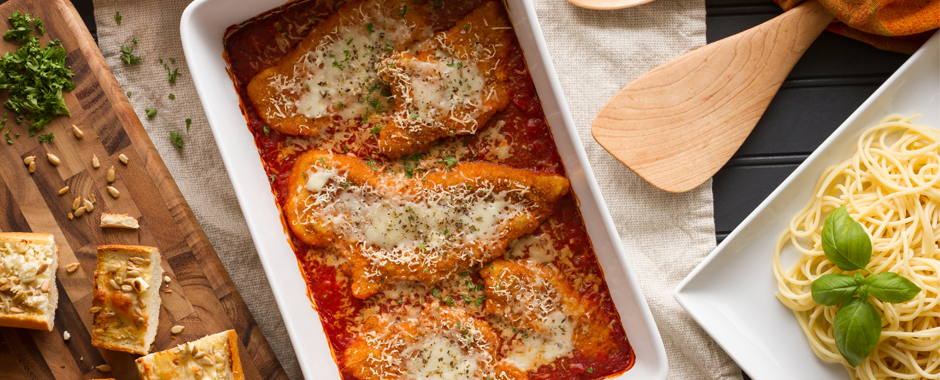 4 Servings, Each Counts as: 6 Life Proteins, 2 Life Carbs, 3 Life Fats
Ingredients:
24 ounces chicken breast, boneless and skinless
1/4 cup egg substitute
1/2 cup breadcrumbs made from your low-calorie bread
1 1/2 cup light tomato sauce, divided
2 ounces part skim mozzarella cheese, shredded
1/4 tsp basil
1/4 tsp garlic powder
1/4 tsp oregano

Directions:
1. Rinse chicken breast and pat dry; dip into the egg substitute.

2. In another bowl, mix the breadcrumbs, basil, oregano and garlic powder. Next dip chicken into breadcrumbs and coat well.
3. Pour 1/2 cup tomato sauce on the bottom of a baking pan.
4. Place breaded chicken breast in pan.
5. Using the remaining sauce, cover each chicken breast.
6. Evenly sprinkle the shredded cheese over each chicken breast.
7. Cover pan with aluminum foil.
8. Bake in preheated oven 375 degrees F for 2 minutes.
9. Remove foil and continue baking for 10 to 15 minutes longer to allow cheese to melt and chicken to cook through.
10. Serve with pasta or your favorite vegetable.